Ultrasonic Flowmeter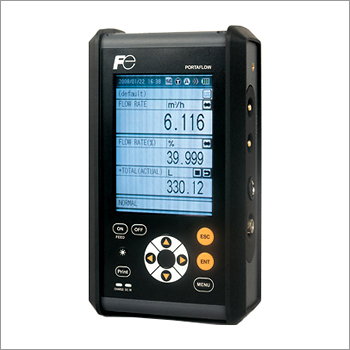 Ultrasonic Flowmeter
Product Description
With a humble beginning in 1990, we are grown as a successful business enterprise engaged in manufacturing and exporting of reliable Ultrasonic Flowmeter. These flowmeters are widely used to measure the level of liquids, where physical contact with liquid is not possible. The offered Ultrasonic Flowmeter is designed as per the established industry standards using sophisticated techniques and optimum quality components that ensure quick and reliable measurement.
An Ultrasonic Flow Meter is a device that compute the speed of a liquid with ultrasound to build volume stream.

Our product is a volumetric stream meter, which needs bubbles or particulates in the circulation. It is perfect for waste-water uses or any filthy fluid that is water or conductive based. This product will for the most part not operate with drinking water or refined water. Air circulation would be needed in the immaculate fluid uses. Our Ultrasonic flowmeters are additionally perfect for uses where low weight drop, low handling and chemical similarity are required.

Descriptions:

Our meter is the planet's first ultrasonic flow meter, which mechanically switches between Transit Time and Pulse Doppler advancement relying upon the liquid states in the pipe. Through the introduction, clients can now appreciate the advantage of high precision alongside non-intrusive affixing of their meter.
It can quantify the speed profile present in the pulse. Doppler state, bringing about higher precision. This creates the meter appropriate for usages with immature stream as well as short direct pipe runs. Further, the pulse Doppler mode demands suspended bubbles and particles in fluid to mirror the indicator and is reasonable for murky fluids. The travel time mode utilizes ultrasound infiltration and is reasonable for "immaculate" fluids. Our Ultrasonic Flow Meter naturally switches between these states in light of changing liquid conditions, for example, the solution of particles and additionally air bubbles. The crossover advancement implies that it can be utilized as a part of essentially any liquid estimation use.
The kit incorporates one converter, two locators with mounting equipment, co-hub links for every finder, and one three-center sensor link.

Application

Juice With Pulp, Yogurt And Dressing
Milk, Sugar Fluid
Sewage And Waste Water Monitoring
Crude Oil
Paint

Technology Explained
Travel time of our ultrasonic flow meters are appropriate for generally clean liquids with low to less air circulation. These meters work by contrasting the ideal opportunity for a ultrasonic indicator to go with the stream (downstream) from the ideal opportunity for a ultrasonic indicator to go against the stream (upstream). The distinction between these travel times is relative to the circulation as well as the flow meter changes over this data to stream rate and aggregate.

Our ultrasonic flow meters are advanced for estimating high strong content liquids, for example, slurry and sludge. These work by detecting the recurrence movements of indicators reflected through moving bubbles, density or particles contrasts in a fluid and creating a straight indicator ration to the stream of the fluid in the pipe. Further, our ultrasonic flow meters change over these recurrence movements to stream rate and aggregate.

Through both Doppler advancement and transit time, the transducers are attached on the exterior of the pipe, offering huge preferences over more customary and intrusive flow estimation devices.

Features
Non-interrupted performance
Industrial approved design
Long-term functionality
Product details
| | |
| --- | --- |
| AC Voltage | 220 V |
| Working Pressure | 0-50MPa |
| DC Voltage | 12-36 V |
| Application | Energy Metering |
| Accuracy | +/-0.2-0.5% |