Portable Ultrasonic Flowmeter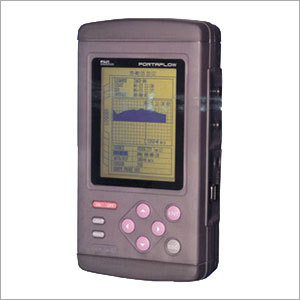 Portable Ultrasonic Flowmeter
Product Description
Our rich industry experience of around 23 years and market leading rates have made us prime manufacturer, supplier and exporter of Portable Ultrasonic Flowmeter. Known for its accuracy and precise display of results, this product is facilitated with a wide and large LCD to display flow rates as well as merging functions together. Portable Ultrasonic Flowmeter offered by us is perfect in measuring homogeneous liquids such as oil, water, sea water and fluid of unknown sound velocity.
Features

Sound velocity measuring function
Enables easy setup for unknown materials
Compact design
Our innovative portable ultrasonic flowmeter consolidates portable, clear and brisk fluid estimation with the demonstrated accuracy and unwavering quality of ultrasonic advancement. Essentially append sensor unit to pipe as well as link the minimal assessment unit - now simply read the outcomes. It is similarly as simple to utilize the instrument for information logging. Information is conserved to a USB and uploaded to outer assessment systems.

Its usability and adaptability make the our portable ultrasonic flowmeter, the perfect solution for circulation estimation in an assortment of uses in basically any division of industry.

Easy To Use Operation Through Complete Shading Realistic Screen And Full Keypad
Fast And Simple Transfer Of Logged Information To Your Desktop Via USB Interface
Sensors: Fast Installation, Robust And High Performance

Highlights

Fast And Simple Sensor Mounting
Exhaustive UI
Simple Transfer Of Logged Information To PC
14 Hours Is The Life Of Battery
Power Estimation

Industries

Petrochemicals
Water
Semi-conductor
Pharmaceuticals
Metal & Steel
Chemicals
Power plants
Oil & Gas
Food & Beverages
HVAC

Uses:

Installation of HVAC systems
Testing of inline flowmeters
Drafting of pump execution
Transitory substitution of blemished flowmeters
General stream related critical solving

Additional Benefits:

Handy and compact
Information storage on external card
Used power figuring
Stream speed profile (alternative)
Battery-controlled, for 12 hours
Printer (Alternative)
USB port for link with PC
Portable Ultrasonic Flowmeter (Portaflow-X)
SPECIFICATIONS :
The Portaflow-X features, Large backlit LCD to display flow rates and totalizing functions together, Simple 10 min setup and easy operation, Sound velocity measuring function eliminates temperature and pressure errors, and enables easy setup for unknown materials, Enhanced anti-bubble measurement technology, Compact and light-weight at 3.3 lbs, Built-in data logger with direct download to PC, Typical accuracy is +0.5% to +1.0% of velocity on calibrated system, Variety of detectors for pipes ranging from 0.50" to 235" diameter.
Fluid conditions
Measured fluid: Homogeneous liquids (water, sea water, oil or fluid of unknown sound velocity) capable of ultrasonic wave propagation
Turbidity of fluid: 10000 deg. (mg/R) or less
State of flow: Axis-symmetric flow in pipe filled with fluid
Fluid temperature
Small diameter sensor, -40 to +100oC
Small sensor, [Standard] - 40 to +100oC
Middle sensor, - 40 to +80oC
Large sensor, - 40 to +80oC
High-temperature sensor, - 40 to +200oC
Velocity range: -32 to 0 to +32m/s
Piping conditions
Pipe material: Steel, stainless steel, cast iron, vinylchloride, FRP, asbestos, aluminum, acrylic, etc.
Pipe size:

Small diameter sensor, 13 to 100
Small sensor, 50 to 400
Middle sensor, 200 to 1200
Large sensor, 200 to 6000
High-temperature sensor, 50 to 400

Lining material: None, tar epoxy, mortar, rubber or material of known sound velocity
Straight pipe length:

Upstream side, 10D or more
Downstream side, 5D or more (D: inner pipe diameter)
Refer to Japan Electric Measuring Instruments
Manufactures' Association's standard JEMIS-032 for details.