Paperless Recorder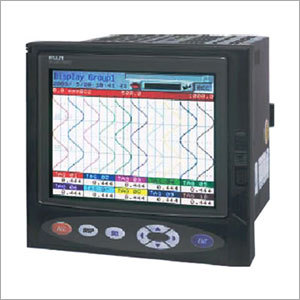 Paperless Recorder
Product Description
Capitalizing on our industrial know-how and innovation philosophy, we strive to manufacture and supply an excellent quality range of Paperless Recorder to our clients. Displays up to 18 channels of data on a high definition 5.7" TFT color LCD, these recorders consume minimum electricity and in turn saves cost as well as power. Available in 9 and 18 channel models, our Paperless Recorder displays data in the form of analog meters, digital or numeric output, bar graphs and event summaries.Our offering of paperless recorders is intended to meet customers information recording requirements. Three versions are accessible with screen sorts that show different mixes of vertical and horizontal outlines, advanced values and visual graphs.

Paperless Recorder that showcases ongoing measured information on a shading LCD and spares information on a minimized glimmer card. It can be snared to network by means of Ethernet, which helps to notify by E - mail as well as to screen on website. As the info signal, thermocouple, a DC voltage, resistance temperature finder, or contact indication can be install to every channel. The Observer programming permits a PC to show and print wave shapes.

This pack of instruments benefits in charting nonstop and cluster information, inspecting as well as chronicling information, designing the paperless recorders, installing booked transfers of recorder information or procuring information progressively and sending out this to other programming packs, for example, Excel. The suite of software incorporates TrendManager Pro, TrendViewer Pro, TrendServer Pro, TrendServer Pro along with an OPC Server as well as a database control instrument.

What Issues Does It Resolve?
Our Paperless recorders offer information to different divisions, favoring quick decision making as well as enhancing working along with unwavering quality. Also, these recorders remove the price of ink, exceptional pen and paper that are demanded for customary outline recorders and benefit customers spare money. They are in a impeccably suited for uses, for example, environmental monitoring, flow monitoring, sterilization, power monitoring, drying ovens, fermentation processes, freeze drying and heat treating.

Field of Utilization:

The Paperless Recorder that we are providing can be utilized to screen, record, and assess the procedures in:
Beverage And Food Plant
Semiconductor Plant
Automotive Plant
Steel Plants
Environmental Laboratory Or Monitoring
Forging Companies
Cement Industries
Pharmaceuticals
Chemical Plant
Tyre Industries
Metal Alloy
Plastic Extrusion Equipment
Power Plants
Paper And Pulp Industries

The 100 mm durable and light weight PHE strip diagram recorder provides the front in line minimal priced ink jet recording tools. Accessible in 1, 6 and 2 channel arrangements, our paperless recorder has the ability to record consistent simple trending on a similar axis, which removes the stage shift disorder showed by traditional pen recorders. Further, our paperless recorder additionally can carefully print intermittent information, scale line, alert condition, burnout and different parameters.

Including a moderate ink jet print instrument, our product prints fresh, no-smear properties without physically reaching the paper. This sort of print-head shower's the ink in little dabs to make a follow in striking hues for one, six or two channel persistent recording. Using a piezoelectric component, the PHE strip graph recorder makes dazzling reports and print caliber at an indistinguishable cost from a pen recorder. Lower number of moving components guarantees years of inconvenience free operation.

Report Capabilities
A standout amongst the most effective components of the our paperless recorder is their capacity to make a full supplement of condition reports on demand or secluded. You may determine summation and day by day reports for any time frame from 1 hour to one day. These reports are imprinted in fresh advanced sort and offer you with vital data, for example, Periodic information for each Channel, Complete Values for every Channel, Minimum and Maximum Recorded Value for every Channel as well as Time of Happening, Mean Value for apiece Channel.

We have on offer for clients PHR Series recorder which displays up to 18 channels of data on a brilliant 5.7" TFT color LCD. The data can be viewed in the form of bar graphs, analog meters, digital/numeric output, totalised output, event summaries, and more. We have facilitated our customers with comfortable keypad to quickly and easily switch between display modes. The adjustable-time screen-saver function extends the life of the display and reduces power consumption.
The PHR Series recorder comes in a 9 channels or 18-channel model. Our Users can record up to 12 types of thermocouples, 5 types of RTDs, and DC voltage/current input on one unit. The PHR can literally record years of data with the optional 512MB Compact Flash card, and the standard 16MB card is more than adequate. Free PC support software allows you to configure the recorder from a PC and view historical data stored on the compact flash card. The PHR comes standard with math and totalizing functions.
These PHR Series recorders are easy to operate and require less maintenance. They consume less electricity in turn saves cost and power. Our customers can avail this recorder at leading market prices.

Features
Long Term Data Storage: Up to 1.5 years in Compact Flash
Saved Data playback: Saved data in Memory card can be easily called out and played back on display
Math and totalisation: These functions are available as standard.
Communications Option: RS485, MODBUS RTU protocol
Screen saver: Period of non-operation exceeds the setting value of parameter, recorder turns off the backlight of LCD.
PC support software's (Data Viewer/Parameter Loader): Supplied in a CD-ROM as a part of standard accessory
Compact size: 160 x 144 x 185mm (6.3" x 5.7" x 7.4") (WxHxD) (Panel mount), 1.5 kg (3 lbs.) compact size
9-point and 18-point recording: 12 types of thermocouples, 5 types of RTDs and voltage/current input are available.
Adjustable-time screen-saver function
Long Term Data Storage
Available with PC support software
Product details
| | |
| --- | --- |
| Model Name/Number | PHE |
| Usage/Application | Industrial |
| Brand | Fuji |
| Recording range | Programmable |
| Power Supply | 100-120V AC or 200-240V AC |
| Display Accuracy | +-0.3% - +1 digit |
| Display | LED (7 segments x 6 digits) |
| Chart Width | 100 mm |
| Chart Speed | 10/20/24/30/50/120/200/300/400 mm/h |
| Chart Length | 15m |